Communication through traditional advertising is fading.
Banners, posters, hoardings, or vinyl stickers are no longer luring enough. These traditional methods are static, and changing them wastes significant time and money.
01
Inefficient communication
with customers and employees due to lack of dynamic and real-time content updates
02
Missed Revenue Opportunities
Inability to promote timely promotions and cross-sell/up-sell offers to customers
03
Inconsistent Branding
Difficulty maintaining consistent branding and messaging across multiple locations or areas
04
Lack of Data Insights
Missing out on valuable insights into customer behavior and preferences
Leverage Dynamic and Powerful Digital Signage to Accelerate Your Business.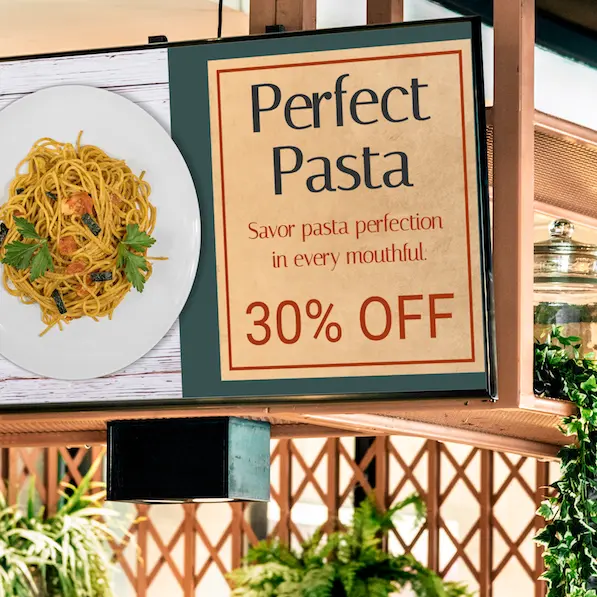 How it works?
Setting up digital signage is easy and quick if you choose the right partners. We can help you get started with our four-step simple process:
Setup device
Install the app. Our digital signage software is compatible with a host of windows and Android PCs/TVs. You do not need to invest in specific hardware to use our solution.
Pair with DigiSignage account
Once you have the app installed, pair it with the DigiSignage account. Pairing can be done quickly without any technical expertise.
Create and schedule visual content
Our cloud based software allows you to use a variety of templates for free. You can also create compelling stories using videos and other media from the web. Our digital signage solutions give a plenty of choices to get your creative juices flowing.
Manage and monitor
Once the setup is complete, you can manage all your screens across disperse locations from a single computer using our cloud based CMS.
Values for the business
Digital signage finds application across all significant customer-facing businesses. Digital signages lead to a great experience, improved efficiency, way-finding and more revenue, of corse.
01
Captivate Audience
Now, customers are most responsive to information on a digital display. Today, progressive businesses understand the pulse and are now using digital signage as their preferred communication medium.
02
Inspire them to take action
Digital Signages serve the multiple purpose of informing, creating an immersive experience and helping customers make a decision, ensuring a seamless journey from curiosity to conversion.
03
Measure and Adapt
DigiSignage helps businesses measure success using proof of play and makes it possible for them to adapt their communications accordingly. Making changes with DigiSignage is fast and easy.
Features
Feature-rich software
From media management to designing templates and from advanced scheduling to advanced reporting. Our feature-rich cloud based CMS helps you to manage content at any scale of your business.
20+ Apps
Variety of apps gives options to show different forms of content and to get your creative juices flowing. Video playback, live streaming, weather forecast, PowerPoint slideshow and clock to name some.
Cloud-based solution
DigiSignage gives flexibility of managing and monitoring content anytime from anywhere.
User-friendly system
Our CMS is well designed and user-friendly. Just a basic understanding of IT software will suffice.
Quick Deployment
With our quick deployment mechanism, you can change the content frequently and rapidly.
Limitless Resolutions
Create as many variants of resolutions and orientations as you want based on display available to you.
Access Management
Our granular access management ensures the right team members have the right access, offering peace of mind.
Advanced Reports
DigiSignage helps businesses measure success of campaigns using proof of play reports and optimize for future.
Rich Dashboard
With rich dashboard, you can see status of everything at glance for quick monitoring and management.
Exceptional Support
We provide unparalleled exceptional support to clients, ensuring your success every step of the way.
Digital Signage Solutions by Use Case
Restaurants, cafes, and bars
Enhance ambience and engagement in restaurants, cafes, and bars with captivating digital menus, promotions, and entertainment.
Hospitality and Tourism
Elevate guest experiences by showcasing informative way-finding, services, event updates, and local attractions.
Fitness Centers
Display workout schedules, health tips, and achievements, motivating members towards their fitness goals.
Education
Deliver announcements, schedules, and engaging content to students and staff, fostering a modern learning environment.
Non-profits and Worship Places
Enhance engagement and communication by sharing updates, events, and inspiring messages to the community.
Retail
Showcase products, promotions, and create immersive shopping experiences that drive customer engagement and sales.
Healthcare
Share health tips, appointment information, and promote wellness services for an improved patient experience.
Corporate Offices
Deliver announcements, updates, and important information to foster efficient communication and a modern work environment.
Device agnostic solution
Feature-rich software
Platform to Scale
Exceptional Support
Save 28.5% with yearly subscription
$120/year
per screen
Subscribe Now
Device agnostic solution
Feature-rich software
Platform to Scale
Exceptional Support
Discover More
FAQs
Still have questions? Learn more about our services and experience through the questions of people like you.
Digital signage setup offers many benefits, from boosting brand visibility and engaging customers with dynamic content to driving sales.
Yes. With our user-friendly cloud-based digital signage, you can easily manage and update content across multiple locations on your own at your convenience. Our intuitive interface empowers you to keep your messaging fresh and relevant.
Of course! We offer expert content creation services tailored to your brand and objectives. This enables you to deliver compelling and relevant messages to your audience.
Seize the Power of Visual Communication. Elevate your brand impact and sales today with DigiSignage.
Book a Demo